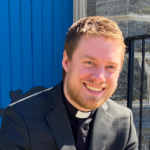 I am a Yankee from birth, a Texan at heart, and a Pennsylvanian by calling.
My wife and I live with our children in Langhorne, Pennsylvania where I serve as a pastor in the Evangelical Presbyterian Church. My formal theological education includes a Master of Divinity from Redeemer Seminary and a Master of Theology from the University of Glasgow. I am currently a PhD candidate at Vrije Universiteit Amsterdam, focusing on the theology of John Owen. I post on the blog sporadically and only whenever I feel like. My posts usually focus on Reformed Presbyterian faith and practice.
If you want to contact me, the best email to use is cameron at cameronshaffer.com.